Summarising the ARVO 2020 presentation of Brian Pall
with co-authors, Shivkumar Mahadevan, Azaam Alli, Frank Yi, Charis Lau and Paul Gomes
Ocular allergy is a pervasive condition reported in 20-40% of the US population, with a similar prevalence worldwide.1,2 A contact lens that releases an anti-allergy agent could offer significant advantages over existing therapies for contact lens wearers: addressing limitations associated with use of eye drops (ease of use, compatibility with contact lens wear, residence time of active agent on the ocular surface), enabling continued used of contact lenses during allergy season, and possibly preventing ocular itching associated with allergic conjunctivitis
The efficacy of an antihistamine (ketotifen) releasing contact lens has already been demonstrated in a study by Pall et al., with contact lens wearers subjected to a conjunctival allergen challenge.3 The results of this study were summarised by Alex Hui in an earlier edition of Contact Lens Update.
The study presented at ARVO 2020, also by Pall et al., was designed to evaluate ex-vivo (post lens wear) drug content in ketotifen-releasing contact lenses over time.
Eleven subjects with contact lens prescriptions ranging from -1.50D to -6.00D, completed all eight study visits, wearing the ketotifen-releasing contact lens for time periods that varied between one minute, up to five hours. After the specified time at each visit the lenses were removed and sent for drug content analysis via High Performance Liquid Chromatography.
The lenses contain 0.019 mg (19µg) of ketotifen prior to wear. The graph below shows the mean amount of residual ketotifen in the lens over the five hours the lenses were worn.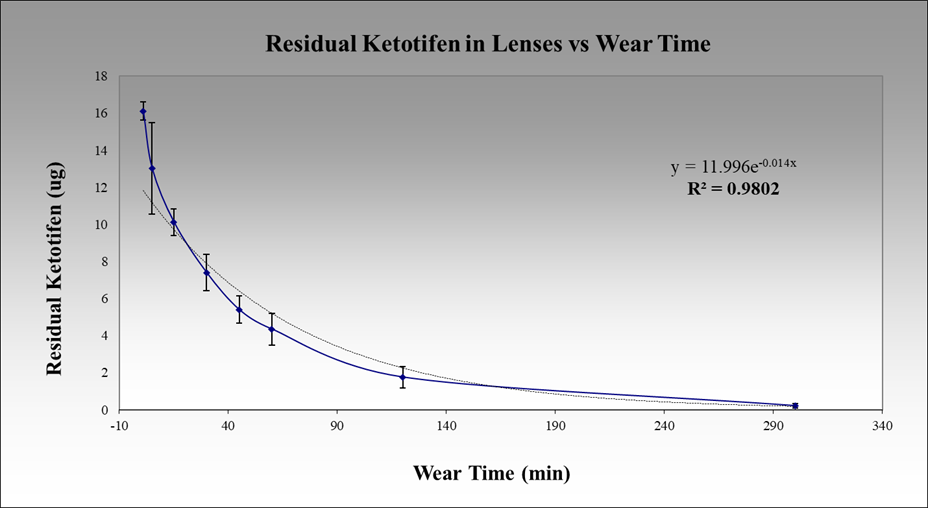 The results demonstrate a consistent, in-vivo diffusion-based drug release profile of ketotifen from the contact lens over time. Approximately 80% of the ketotifen is released every hour, and these results are consistent with the previously published efficacy results.3
Conclusion
Residence time for drops on the ocular surface is known to be short.4-6 The theoretical advantages of delivery of a therapeutic agent to the ocular surface over a longer period of time have been understood for years, and have recently been thoroughly reviewed in the BCLA CLEAR Future Technology report.7 This, coupled with contact lens wearers being able to continue their lens wear uninterrupted during allergy season, make this material technology an interesting and valuable development for eye care professionals (ECPs). A recent announcement highlighted that the first regulatory approval for this ketotifen-releasing contact lens has been granted in Japan.8 It appears ECPs are getting ever-closer to being able to add this novel technology into their treatment options for their contact lens patients suffering from seasonal allergic conjunctivitis.
REFERENCES:
Bielory L, Friedlaender MH. Allergic conjunctivitis. Immunol Allergy Clin North Am. 2008;28(1):43-58, vi.
Abelson MB, McLaughlin JT, Gomes PJ. Antihistamines in ocular allergy: are they all created equal? Curr Allergy Asthma Rep. 2011;11(3):205-211.
Pall B, Gomes P, Yi F, Torkildsen G. Management of Ocular Allergy Itch With an Antihistamine-Releasing Contact Lens. Cornea. 2019;38(6):713-717.
Hardberger R, Hanna C, Boyd CM. Effects of drug vehicles on ocular contact time. Arch Ophthalmol. 1975;93(1):42-45.
Napoli PE, Satta GM, Coronella F, Fossarello M. Spectral-domain optical coherence tomography study on dynamic changes of human tears after instillation of artificial tears. Investigative ophthalmology & visual science. 2014;55(7):4533-4540.
Gagliano C, Papa V, Amato R, Malaguarnera G, Avitabile T. Measurement of the Retention Time of Different Ophthalmic Formulations with Ultrahigh-Resolution Optical Coherence Tomography. Current eye research. 2018;43(4):499-502.
Jones L, Hui A, Phan CM, et al. CLEAR – Contact lens technologies of the future. Contact lens & anterior eye. 2021;44(2):398-430.
Johnson & Johnson Vision Receives Approval of World's First and Only Drug-Releasing Combination Contact Lens for Vision Correction and Allergic Eye Itch: ACUVUE® Theravision™ with Ketotifen. https://www.prnewswire.com/news-releases/johnson–johnson-vision-receives-approval-of-worlds-first-and-only-drug-releasing-combination-contact-lens-for-vision-correction-and-allergic-eye-itch-acuvue-theravision-with-ketotifen-301254442.html. Accessed 11 Apr 2021.