Dr Paul Gifford consults with the contact lens industry on development of contact lens designs and their implementation into clinical practice. He is a partner in private practice conducting clinical research on use of contact lenses and orthokeratology to control progression of myopia, and holds an Adjunct Senior Lecturer position at the School of Optometry and Vision Science, University of New South Wales, Sydney.
Orthokeratology (OK) describes the overnight wear of specially designed flat fitting rigid gas permeable lenses with the specific intention to flatten the profile of the anterior cornea to correct ametropia during the day after lens removal. Since its first mention in the 1960's,1 and despite having undergone various modernising changes along the way, OK has traditionally remained a niche modality within contact lens practice. That is until more recently, where a growing evidence base demonstrates OK can be effective at slowing progression of myopia in children.2 Just how effective it can be was reported relatively recently in two meta-analyses, which, through assessing seven independently conducted longitudinal studies, revealed around 45% efficacy in slowing progression of myopia when compared to single vision spectacle and contact lens wearing controls.3,4
So, it was with great anticipation that I opened the latest International Contact Lens Prescribing report on OK lens fitting, expecting to see an increase in its use.5 Was I right? Well partially. According to their report, OK fitting rates have consistently risen across the duration of the survey, doubling from 2004 to 2017 and they now account for 1.3% of all contact lens fits. The conclusion here is that while we see growth in OK, it clearly still only represents a tiny minority of all contact lens fitting. Given the rise in prevalence of childhood myopia over the same period it is perhaps surprising that practitioners are still reticent to offer this option more regularly. This editorial is my attempt to remedy this deficit by sharing some of the basics of OK fitting which may enable you to take steps to start fitting it in your practice.
OK for myopia control
Are more children becoming myopic? In a nutshell, yes. Meta-analysis reveals a global prevalence of 23% in 2000 increasing to 28% in 2010, with an ongoing trend predicting 50% by 2050.6 There is of course, considerable variation across regions, with higher prevalence across East Asian countries. Although currently lower than East Asia, Western countries such as North America and Western Europe are still affected by increasing prevalence. The reasons behind these trends are complex but are likely due to a combination of genetic factors and changes to childhood environment. Increased educational demands which result in more time spent on near work than on outdoor activities are also likely to contribute to these changes. Though far from conclusive, this relationship is demonstrated by 5% myopia prevalence being reported in 6-18-year-old children in northern rural China,7 compared to 52% in 10-15-year-old children in a more urban environment.8
As a contact lens correction modality for slowing myopia progression, OK is currently accepted as effective for correcting up to -6.00D of myopia with up to -1.50D of corneal astigmatism.9 Despite this, I regularly hear claims from OK advocates and lens designers that this measure is conservative and that any correction is possible. While this approach is still lacking in supportive data, this does not mean OK correction is restricted for myopia control. Outside of the 'standard' prescription range, OK just needs to be managed differently, with a proportion of the full refraction corrected by the OK lens, and any residual refraction corrected by glasses. Charm and Cho demonstrated this approach to be as efficacious in slowing progression of myopia as the treatment effects reported in full OK correction studies.10
An often-unrecognised benefit OK offers over myopia control with soft lens designs is the ability to correct a greater range of astigmatism. To understand this, it is important to compare the relationship between ocular astigmatism (what you measure in the trial frame / phoropter) and corneal toricity (what you measure with the keratometer / corneal topographer). Standard OK, using spherical lens designs, will attempt to flatten the cornea towards the spherical shape defined by the lens. This means that spherical OK should neutralize up to around -1.50D of corneal toricity. When ocular astigmatism matches the amount and direction of corneal toricity, reducing corneal toricity will reduce overall ocular astigmatism, leaving the patient with significantly reduced, or no, astigmatism.
If corneal toricity exceeds ocular astigmatism you are likely to end up with a residual over correction along the opposite meridian. E.g. -1.50D x 180 cornea toricity and only -0.50D x 180 ocular astigmatism will likely result in -1.00D x 90 of residual astigmatism. In the reverse case -0.50D x 180 corneal toricity and -1.50D x 180 ocular astigmatism will likely result in under correction, with only -0.50D of the -1.50D ocular astigmatism corrected. Admittedly, these cases are typically the exception to the norm, however it is still an important consideration that needs to be understood and kept in mind when deciding on whether to offer OK to your patient.
The -1.50D corneal toricity limit is also a physical constraint, as spherical OK lenses typically become unstable and decentre when fitted to corneas with more toricity. I say 'typically' because this '-1.50D rule' depends on whether the toricity extends across the whole cornea, i.e. from limbus to limbus, or is restricted centrally, with the surrounding more peripheral cornea retaining a more spherical shape.
Central toricity
The top baseline topography map in Figure 1 shows a central bow-tie astigmatic appearance surrounded by a spherical zone indicated by the surrounding green annulus. A spherical lens will likely fit in this case as the periphery of the lens will land on the spherical part of the cornea. The central spherical optic of the OK lens will then mold the central toric zone of the cornea towards its spherical shape, and in doing so correct the central toricity. As previously highlighted, when ocular astigmatism matches corneal toricity then the ocular astigmatism should be corrected. When starting out, I suggest a limit of correcting up to -1.50D of astigmatism, however the upper feasible limit when fitting a spherical lens to a cornea with central toricity is largely dependent on the power of the steep meridian. When written in minus-cylinder format, the power of the steep meridian is established by combining the value of the sphere and cylinder powers. For example, an Rx of -3.00/-3.00×180 gives a steep meridian power of -6.00D, which falls at the upper limit of effective OK treatment previously highlighted.
Limbus-to-limbus toricity
Shown in the lower baseline topography map in Figure 1, limbus-to-limbus astigmatism, as the term suggests, is where toricity extends across the whole cornea. The difficulty this creates is that a spherical OK lens no longer has a spherical zone on which to land, resulting in an unstable fit, and greater likelihood of lens decentration. As a rough rule, -1.50D of limbus-to-limbus astigmatism is where this starts to become problematic. It is possible to make a more accurate assessment by calculating the difference in corneal height between the flat and steep corneal meridians from corneal topography. Most corneal topography software provides this measurement under the term 'corneal height' measured across a set chord. Corneal height will be lower across a small chord and increases as the measurement chord is increased – think of this like comparing a small and large up-turned bowl. The larger bowl will be deeper because it has a larger width (chord). To assess flat/steep corneal height difference subtract the corneal height along the flat meridian from corneal height along the steep meridian, with both measured at a chord 1mm smaller than the diameter of the lens you are intending to fit. If the difference is greater than 40µm then a spherical lens is unlikely to fit and should be avoided and toric lens options considered instead.
Toric OK lenses
Toric OK lenses offer a solution to fitting corneas with limbus-to-limbus toricity, but in doing so introduce extra complexity – though with a good lab on hand this extra complexity can be easily overcome. The simplest approach is to forward your topography maps to the lab and ask them to calculate an empirical lens. However, if you want to get more involved there are lens designs like Paragon CRT that offer toric variations of their standard spherical design. The aim here is to fit a lens that offers flat/steep meridian height difference that is slightly less than the corneal meridian difference that you calculated from corneal topography. If you calculated a corneal height difference of 60µm then you would need to fit a toric lens that offers around 50µm height difference. The reason for fitting a lens with slightly less difference in flat/steep height is to avoid too close an alignment between lens and cornea as this increases potential for the lens to bind.
When fitting toric lenses, the refraction needs to be considered separately to lens fit requirements. The previously mentioned toric version of Paragon CRT utilises a toric periphery to stabilise fit but the central optic is still spherical. This means the lens will only fully correct ocular astigmatism if it matches corneal toricity, and the same limits of astigmatic correction previously covered in the central toricity section apply. Some manufacturers do offer toric OK lens designs that include a toric central optic, giving scope to correct ocular astigmatism when it does not match corneal toricity. However, these are more difficult to fit and best left for the lab to calculate by sending them baseline topography maps and measured refraction.
Managing residual astigmatism
Whether calculated from the start, or discovered at follow up visits, the presence of residual astigmatism should not distract from starting, or continuing, OK lens wear. Any residual under-correction can be managed with glasses. While perhaps distracting from the primary purpose of fitting OK – that being to provide full correction – as shown by Charm and Cho,10 the myopia control benefits of OK are still retained if used in combination with glasses.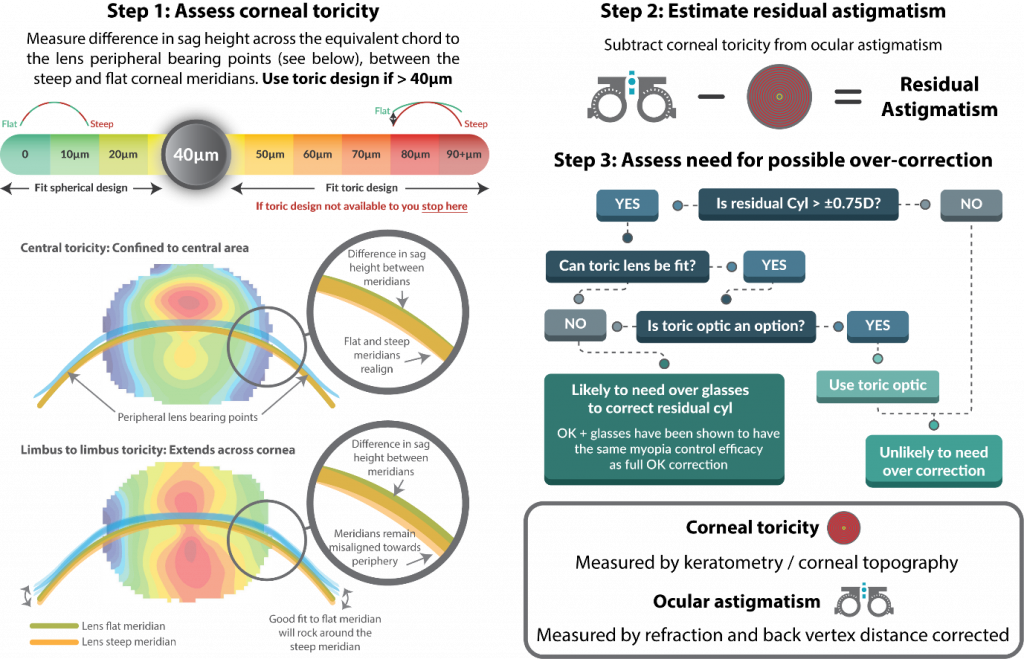 Additional factors
Ultimately, the amount of astigmatism an individual practitioner may attempt to correct comes down to personal judgement. I suggest when starting out to keep to lower amounts in the same way that patients with lower amounts of myopia should initially be selected. However, the learning curve is steep, and once those few initial successful fits have been achieved, it may be possible to fairly quickly move on to extending the range of correction you wish to attempt. Understanding astigmatism is a fundamental element of successful OK, which is why I have concentrated on this aspect, but there are additional factors that are useful to know and bear in mind:
Is OK safe? OK, like any other contact lens wearing modality, carries risk if not used properly. Prospective studies conducted between 2011 and 2014 have only reported mild non-significant effects including corneal staining; conjunctival hyperaemia; corneal erosions and papillary conjunctivitis.10–16 The greater concern of microbial keratitis (MK) is harder to reliably measure in children due to the short history of use. To date, Bullimore et al have provided the most robust measure constructed from practitioner reports to estimate risk of MK at 13.9 per 10,000 patient-years.17 The Bullimore paper concluded this was similar to other forms of overnight CL wear, however with a larger data set, the figure is actually similar to soft reusable daily wear silicone hydrogel contact lens use in adults.18 Liu and Xie' s literature review reported OK to be safe as long as good compliance from patients and practitioners was followed.19 In order to reduce exposure to Acanthamoeba, particular care should be taken to avoid tap water coming into contact with the lenses, their case or any devices used to handle the lens such as removal plungers.20
Do children like OK? The research suggests yes. Compared to wearing glasses, children rated OK better for distance vision, symptoms, appearance, satisfaction, effect on activities, academic performance, handling and peer perceptions.21 Improved vision-related quality of life compared to wearing glasses has also been reported, with 75% of participants preferring OK over glasses.22
From what age can I fit OK? There really is no lower age limit other than the capability of the individual with regards to being able to handle and care for their lenses. From a myopia control efficacy perspective, there is of course greater benefit in fitting OK early. In their five-year longitudinal study, Hiraoka et al revealed less overall increase in axial eye length across the study duration in children who were younger at study enrolment.14 The regression model they fitted to the data revealed 37% less overall axial eye elongation in OK wearers compared to glasses wearing controls for those starting at age seven contrasting to just 3% difference for those starting wear at age twelve. Due to myopia progressing faster at a younger age,23 actual difference rather than percentage change carried more impact, with those starting OK at age seven having around 0.9mm shorter axial eye length compared to glasses wearers, contrasting just 0.05mm difference across five-years in those starting wear at age twelve.14
It must be harder to fit younger than older children than with OK? There is no evidence for this assumption. We know from soft lens studies that just a small additional amount of time is required for teaching insertion and removal to younger age groups. Walline et al reported it taking around 15 minutes more chair time to fit 8 to 12-year old children with soft contact lenses than 13 to 17 year old teenagers, but most of this difference was caused by insertion and removal training that can be easily delegated to support staff.24 Granted these were soft lenses, but it's difficult to reason why this same trend should not follow through to fitting OK.
Is rebound of myopia control effect a problem if OK is stopped? Only one study, conducted by Cho and Cheung, has investigated rebound in axial eye growth.25 OK wearing participants from two previous longitudinal studies were given the option to discontinue or continue wear, and monitored over a seven-month period. The cohort that discontinued OK wear experienced faster axial eye elongation compared to those who continued wearing OK, with rate of eye growth similar to that reported for the spectacle wearing controls during the preceding two-year study. When OK wear was re-instated and the subjects followed for a further seven-months, axial eye growth returned to match rates of growth in those that had continued to wear OK throughout. The authors suggested that because rate of eye growth post OK wear was similar to spectacle wearing children in the earlier studies, this should not be considered a true rebound effect. However, children who discontinue OK should monitored for at least six-months and the treatment resumed if myopia progression is observed.
How does OK slow progression of myopia? The feature article of this issue of contact lens update answers this question.
Does OK need to be customized to provide a myopia control effect? No, it does not. Currently published longitudinal research has in fact only demonstrated efficacy for myopia control with conventional OK lens designs.3,4 I am hopeful that OK can be modified to provide even greater myopia control effect, but modification should not be accepted as necessary or even desirable until longitudinal axial length measuring studies demonstrate otherwise.
Is corneal topography essential? Yes, in my opinion it is. While it is possible to fit on keratometry alone, corneal topography is the only way to accurately assess lens fit and ongoing success.
Would combined therapy with atropine provide greater myopia control effect? This is the topic of the conference highlight in this issue of contact lens update.
Conclusion
I hope this editorial has provided all that you need to get started with OK for myopia control, and if you are already an old hand, that the feature article and conference review provide you with some new and useful additional information. Whilst it may be daunting when looking in from the outside, OK fitting is a remarkably easy skill to pick up, because all information about lens fit can be easily shared with your lab or mentor practitioners to gain help and advice. Armed with your handy guide available from download through the 'Clinical Insight' link, there is no excuse for you not to take the plunge. The rapidly growing global myopia community is calling out for your help in stemming what has been described by some as "an epidemic of tsunami proportions". As practitioners continue to start embracing OK fitting I am hopeful that future editions of the International Contact Lens Prescribing survey report will start to reflect a gradual increase in OK use.
REFERENCES:
Jessen GN. Orthofocus techniques. Contacto. 1962;6:200-204.
Cho P, Cheung SW, Edwards M. The longitudinal orthokeratology research in children (LORIC) in Hong Kong: a pilot study on refractive changes and myopic control. Curr Eye Res. 2005;30(1):71–80.
Si J-K, Tang K, Bi H-S, Guo D-D, Guo J-G, Wang X-R. Orthokeratology for myopia control: a meta-analysis. Optom Vis Sci. 2015;92(3):252-257.
Sun Y, Xu F, Zhang T, et al. Orthokeratology to control myopia progression: A meta-analysis. PLoS One. 2015;10(4):e0124535.
Morgan PB, Efron N, Woods CA, Santodomingo-Rubido J. International survey of orthokeratology contact lens fitting. Cont Lens Anterior Eye. 2019;42(4):450-454.
Holden BA, Fricke TR, Wilson DA, et al. Global prevalence of myopia and high myopia and temporal trends from 2000 through 2050. Ophthalmol. 2016;123(5):1036-1042.
Li Z, Xu K, Wu S, et al. Population-based survey of refractive error among school-aged children in rural northern China: The Heilongjiang eye study. Clin Exp Ophthalmol. 2014;42(4):379-384.
Sun JT, An M, Yan XB, Li GH, Wang DB. Prevalence and related factors for myopia in school-aged children in Qingdao. J Ophthalmol. 2018;2018.
Swarbrick HA. Orthokeratology review and update. Clin Exp Optom. 2006;89(3):124-143.
Charm J, Cho P. High myopia – partial reduction orthokeratology (HM-PRO) study: recruitment and one year result. Cont Lens Anterior Eye. 2011;34(Supplement 1):S3.
Cho P, Cheung SW. Retardation of myopia in orthokeratology (ROMIO) study: A 2-year randomized clinical trial. Invest Ophthalmol Vis Sci. 2012;53(11):7077-7085.
Kakita T, Hiraoka T, Oshika T. Influence of overnight orthokeratology on axial elongation in childhood myopia. Invest Ophthalmol Vis Sci. 2011;52(5):2170-2174.
Chen C, Cheung SW, Cho P. Myopia control using toric orthokeratology (TO-SEE study). Invest Ophthalmol Vis Sci. 2013;54(10):6510-6517.
Hiraoka T, Kakita T, Okamoto F, Takahashi H, Oshika T. Long-term effect of overnight orthokeratology on axial length elongation in childhood myopia: A 5-year follow-up study. Invest Ophthalmol Vis Sci. 2012;53(7):3913-3919.
Zhu M-J, Feng H-Y, He X-G, Zou H-D, Zhu J-F. The control effect of orthokeratology on axial length elongation in Chinese children with myopia. BMC Ophthalmol. 2014;14:141.
Santodomingo-Rubido J, Villa-Collar C, Gilmartin B, Gutiérrez-Ortega R. Orthokeratology vs. spectacles: Adverse events and discontinuations. Optom Vis Sci. 2012;89(8):1133-1139.
Bullimore MA, Sinnott LT, Jones-Jordan LA. The risk of microbial keratitis with overnight corneal reshaping lenses. Optom Vis Sci. 2013;90(9):937-944.
Stapleton F, Keay L, Edwards K, et al. The incidence of contact lens-related microbial keratitis in Australia. Ophthalmol. 2008;115(10):1655-1662.
Liu YM, Xie P. The safety of orthokeratology–a systematic review. Eye Contact Lens. 2016;42(1):35-42.
Watt K, Swarbrick H a. Microbial keratitis in overnight orthokeratology: review of the first 50 cases. Eye Contact Lens. 2005;31(5):201-208.
Santodomingo-Rubido J, Villa-Collar C, Gilmartin B, Gutiérrez-Ortega R. Myopia control with orthokeratology contact lenses in Spain: refractive and biometric changes. Invest Ophthalmol Vis Sci. 2012;53(8):5060-5065.
Huang J, Wen D, Wang Q, et al. Efficacy comparison of 16 interventions for myopia control in children: A network meta-analysis. Ophthalmol. 2016;123(4):697-708.
Donovan L, Sankaridurg P, Ho A, Naduvilath T, Smith EL, Holden B a. Myopia progression rates in urban children wearing single-vision spectacles. Optom Vis Sci. 2012;89(1):27-32.
Walline JJ, Jones L a, Rah MJ, et al. Contact Lenses in Pediatrics (CLIP) Study: chair time and ocular health. Optom Vis Sci. 2007;84(9):896-902.
Cho P, Cheung SW. Discontinuation of orthokeratology on eyeball elongation (DOEE). Cont Lens Anterior Eye. 2017;40(2):82-87.