At the 2013 meeting of the Association for Vision and Research in Ophthalmology (AR), a team of researchers presented the results of a study confirming that the SPEEDTM questionnaire is a valid and repeatable instrument for measuring dry eye symptoms.
View the poster.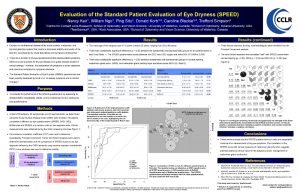 Click here to download the questionnaire.
Related: Ngo W, Situ P, et al. Psychometric properties and validation of the standard patient evaluation of eye dryness questionnaire. Cornea 2013;32(9): 1204-10.