Research on the efficacy of nutritional supplements for the treatment of dry eye is the beginning to catch up with the interest and anecdotal evidence from clinicians. Download our research brief for an at-a-glance review of this new information.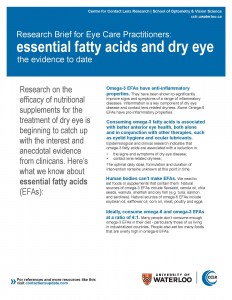 REFERENCES:
Hom MM, Asbell P, Barry B. Omegas and dry eye: More knowledge, more questions. Optom Vis Sci 2015;92(9): 948-56.
Jalbert I. Diet, nutraceuticals and the tear film. Exp Eye Res 2013;117: 138-46.
Miljanovic B, Trivedi KA, Dana MR, et al. Relation between dietary n-3 and n-6 fatty acids and clinically diagnosed dry eye syndrome in women. Am J Clin Nutr 2005;82(4):887-93.
Wojtowicz JC, Butovich I Uchiyama E, Aronowicz J, Agee S, McCulley JP. Pilot, prospective, randomized, double-masked, placebo-controlled clinical trial of an omega-3 supplement for dry eye. Cornea 201;30:308-14.
Bhargava R, Kumar P, Kumar M, Mehra N, Mishra A. A randomized controlled trial of omega-3 fatty acids in dry eye syndrome. Int J Ophthalmol 2013;6:811-6.
Olenik A. Effectiveness and tolerability of dietary supplementation with a combination of omega-3 polyunsaturated fatty acids and antioxidants in the treatment of dry eye symptoms: results of a prospective study. Clin Ophthalmol 2014;8:169-76.
Sullivan BD, Cermak JM, Sullivan RM, et al. Correlations between nutrient intake and the polar lipid profiles of meibomian gland secretions in women with Sjogren's syndrome. Adv Exp Med Biol 2002;506(pPtA): 441-7.
Walter SD, Gronert K, McClellan AL, et al. Omega-3 tear film lipids correlate with clinical measures of dry eye. Invest Ophthalmol Vis Sci 2016;57(6): 2472-8.
Calder PC. N-3 polyunsaturated fatty acids and inflammation: from molecular biology to the clinic. Lipids 2003;38(4): 343-52.
Fontes JD, Rahman F, Lacey S, Larson MG, Vaan RS, Benjamin EJ, Harris WS, Robins SJ. Red blood cell fatty acids and biomarkers of inflammation: A cross-sectional study in a community-based cohort. Atherosclerosis 2015;240(2): 431-436.
Bhargava R, Kumar P. Oral omega-3 fatty acid treatment for dry eye in contact lens wearers. Cornea 2015;34(4): 413-20.
Pflugfelder SC, Geerling G, Kinoshita S, et al. Management and therapy of dry eye disease: report of the Management and Therapy Subcommittee of the International Dry Eye Workshop. Ocul Surf 2007;5: 163-178.
Downie L. The link between nutrition and anterior eye health. Contact Lens Update, August 2016.
Simopoulos AP. The importance of the omega-6/omega-3 fatty acid ratio in cardiovascular disease and other chronic diseases. Exp Biol Med 2008;233: 674-688.
Olenik A, Jimenez-Alfaro I, Alejandre-Alba N, Mahillo-Fernandez I. A randomized, double-masked study to evaluate the effect of omega-3 fatty acids supplementation in meibomian gland dysfunction. Clin Interv Aging 2013;8: 1133-1138.
Ngo W, et al. The relief of dry eye signs and syptoms using a combination of lubricants, lid hygiene and ocular nutraceuticals. J Optom 2016, http://dx.doi.org/10.1016/j.optom.2016.05.001.