New evidence indicates that contact lens deposits are not as straightforward as we once thought. Download our research brief (in English or Russian) for an at-a-glance review of this new information.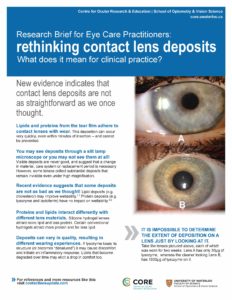 REFERENCES:
Lorentz H, et al. The impact of lipid on contact angle wettability. Optom Vis Sci 2007;84: 946-53.
Copley KA, et al. Wettability of SCLs assessed in a model blink-cycle cell. Invest Ophthalmol Vis Sci 2006;47: e-abstract 2407.
Tonge S, et al. The ex vivo wettability of soft contact lenses. Curr Eye Res 2001;23: 51-9.
Cheng L, et al. Wettability of silicone hydrogel contact lenses in the presence of tear-film components. Curr Eye Res 2004;28: 93-108.
Ketelson HA, et al. Dynamic wettability properties of a soft contact lens hydrogel. Colloids Surf (B) Biointerfaces 2005;40: 1-9.