Doerte Luensmann is a clinical scientist at the Centre for Contact Lens Research, in the School of Optometry at the University of Waterloo, Canada. 
Sruthi Srinivasan is a research assistant professor, working at the Centre for Contact Lens Research, School of Optometry and Vision Science, University of Waterloo, Canada.  
We know that cosmetics are tested for safety on the eye, but what is their potential impact on contact lens wear? The Centre for Contact Lens Research recently conducted an in vitro (laboratory-based) study aimed at assessing the impact of common cosmetics on seven different types of silicone hydrogel lens materials. This is the first time cosmetics have been systematically tested in this way.
The research team coated lenses with a variety of cosmetics, including three hand creams, three eye makeup removers and three kinds of black mascara, before conducting a variety of laboratory tests on the lenses to investigate the impact of these cosmetics should they become attached to the lens surfaces. These tests measured contact lens shape, lens power, surface wettability and a variety of image quality metrics. Contact lens parameters were determined before and after the cosmetics were applied and following a cleaning cycle with a hydrogen peroxide-based care system.
The following results were presented at the 2013 meeting of the American Academy of Optometry and the 2014 meeting of the British Contact Lens Association.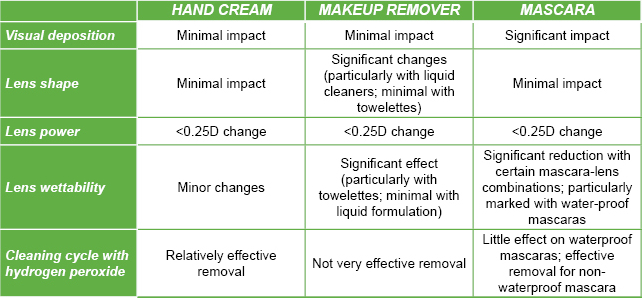 The results show that changes in lens parameters were dependent on the cosmetics applied and varied between lens types; plasma-coated lenses were typically less impacted, overall. Subsequent cleaning with a peroxide-based system (using a non-rub approach) reduced deposits with most lens-cosmetic combinations, but many lenses did not return to their baseline state. These results show that lens wearers should be mindful of preventing eye cosmetics coming into contact with their lenses, as lens parameters, wettability and vision may be impacted.