Jill is a clinical scientist at the Centre for Contact Lens Research, at the School of Optometry and Vision Science, University of Waterloo, Canada. 
---
Solution-induced corneal staining, or SICS, is characterised by transient superficial punctate corneal staining. It has been a hot topic since the first reports in 2002. It has been a hot topic since the first reports in 2002.1,2
Products: SICS is recognized to be associated with certain combinations of lens materials (both hydrogel and silicone hydrogel) when used with a variety of lens care products.3-7 It has been shown that some products preserved with polyhexamethylene biguanide (PHMB) are more likely to result in higher levels of SICS in an acute exposure model.4-6 However, other work using longer exposure periods has demonstrated that polyquad-preserved products can result in more SICS than certain PHMB-preserved products.7
Time line: Depending on the combination of products, maximum staining is observed one to two hours following lens insertion; after four or more hours of lens wear, there is considerably less evidence of corneal staining.8,9
Pattern: SICS is frequently described as presenting in an annular pattern.2,3,10 However, although the staining is often more dense in the peripheral corneal regions (Fig 1), it may affect the entire corneal surface (Fig 2), 2,8,11 albeit greater inferiorly and less centrally.2,11 It is unclear to date whether the variation in presentation pattern is patient- or product-dependent or simply a factor of the SICS time-course.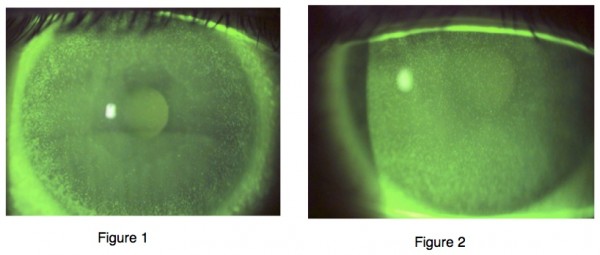 Symptoms: SICS has been reported to be relatively asymptomatic.2,9 However, others have reported that SICS can reduce comfort and is symptomatic.5,10,11 In a masked contralateral clinical trial, "burning" was the most frequently reported symptom associated with SICS.11
Cause: Several review papers discuss the cellular response behind the transient corneal staining seen in SICS.12-14 Fluorescein has been shown to enter the epithelial cell cytoplasm in some cases, supporting the theory that staining is indicative of cellular compromise.15 An alternate theory suggests that SICS simply illustrates the binding of fluorescein to epithelial cells, with the care product's preservative molecule acting as a binding agent.16 More work in this area will improve our understanding of what SICS represents at the cellular level.
Impact: There is no evidence that SICS is associated with an increased risk of corneal infection, as the rates of infection have not changed over the past 25 years17 despite a rapid increase in the number of wearers using preserved products and the introduction of silicone hydrogel lenses, and thus an increase in the number of wearers exhibiting SICS.18 It has been reported to be associated with an increased rate of infiltrative events19 and also with increases in specific tear-film markers,20 suggesting that SICS may be associated with an inflammatory response. However, other work investigating the impact of SICS on tear film inflammatory markers showed no direct relationship between tear film cytokines and the level of SICS21 and no direct relationship between the presence of infiltrates and the appearance of SICS;22 rather, increased cytokines and infiltrates were associated with the use of care systems incorporating preservatives irrespective of the presence of SICS.
Prevention and Intervention: By removing lenses during routine follow-up appointments, regardless of the absence of symptoms, and undertaking a thorough fluorescein examination will permit the detection of SICS. Once detected, the practitioner can then decide if further action to eliminate or reduce the staining is necessary. Although the staining will dissipate within six hours,9 prevention strategies should be considered where the level of staining is significant. A number of interventions are possible:
Carefully choosing and prescribing a different combination of lens material and care product is often sufficient to prevent SICS.5,6,23
Peroxide care systems have been shown to be associated with very little corneal staining when used with silicone hydrogel lenses.5-7,22,24
Research also indicates that rubbing lenses with the preserved care product prior to storage may reduce the level of SICS.25
Avoiding the use of solutions by refitting the patient into daily disposables will obviously prevent SICS.23
Much further work is being undertaken to understand the relevance of SICS, but it has become clear that it is not simply a solution-related phenomenon; it also depends on the lens material with which a solution interacts.
REFERENCES
Epstein A. SPK with daily wear of silicone hydrogel lenses and MPS. Contact Lens Spectrum 2002;17(11): 30.
Jones L, MacDougall N, et al. Asymptomatic corneal staining associated with the use of balafilcon silicone-hydrogel contact lenses disinfected with a polyaminopropyl biguanide-preserved care regimen. Optom Vis Sci 2002; 79(12): 753-61.
Jones L. Understanding incompatibilities. Contact Lens Spectrum 2004; 19(7): 4-7.
Andrasko G, Ryen K: A series of evaluations of MPS and silicone hydrogel lens combinations. Rev Cornea and Contact Lenses 2007; 143(March): 36-42.
Andrasko G, Ryen K: Corneal staining and comfort observed with traditional and silicone hydrogel lenses and multipurpose solution combinations. Optometry 2008;79(8): 444-54.
www.staininggrid.com/. 2013.
Carnt N, Evans V, et al. IER matrix update: adding another silicone hydrogel. Contact Lens Spectrum 2008;23(3): 28-35.
Bandamwar KL, Garrett Q, et al. Onset time course of solution induced corneal staining. Cont Lens Anterior Eye 2010;33(4): 199-201.
Garofalo RJ, Dassanayake N, et al. Corneal staining and subjective symptoms with multipurpose solutions as a function of time. Eye Contact Lens 2005;31(4): 166-174.
Diec J, Evans VE, et al: Comparison of ocular comfort, vision, and SICS during silicone hydrogel contact lens daily wear. Eye Contact Lens 2012;38(1): 2-6.
Woods J, Keir N, et al: Solution induced corneal staining (SICS): Symptoms and staining patterns. Optom Vis Sci 2012; 89: E-abstract 125625.
Ward KW: Superficial punctate fluorescein staining of the ocular surface. Optom Vis Sci 2008;85(1): 8-16.
Morgan PB, Maldonado-Codina C: Corneal staining: do we really understand what we are seeing? Cont Lens Anterior Eye 2009;32(2): 48-54.
Efron N: Putting vital stains in context. Clin Exp Optom 2013;96(4): 400-21.
Mokhtarzadeh M, Casey R, et al. Fluorescein punctate staining traced to superficial corneal epithelial cells by impression cytology and confocal microscopy. Invest Ophthalmol Vis Sci 2011;52(5): 2127-35.
Bright FV, Merchea MM, et al. A preservative-and-fluorescein interaction model for benign multipurpose solution-associated transient corneal hyperfluorescence. Cornea 2012;31(12): 1480-8.
Stapleton F, Keay L, et al. The epidemiology of microbial keratitis with silicone hydrogel contact lenses. Eye Contact Lens 2013;39(1): 79-85.
Levy B, Orsborn G. Clinical risks: Myths and truths. Contact Lens Spectrum 2008;23(1): 42-46.
Carnt N, Jalbert I, et al. Solution toxicity in soft contact lens daily wear is associated with corneal inflammation. Optom Vis Sci 2007;84(4): 309-15.
Papas E, Bandamwar K, et al. Does the observation of solution induced corneal staining signal the presence of corneal inflammation? Contact Lens And Anterior Eye 2011;34(Supplement 1):  S14.
Kalsow CM, Reindel WT, et al. Tear cytokine response to multipurpose solutions for contact lenses. Clin Ophthalmol 2013;7: 1291-302.
Carnt NA, Keay L, et al. Risk factors associated with corneal inflammation in soft contact lens daily wear. Invest Ophthalmol Vis Sci 2007;48(5): E-abstract 4326.
Papas EB, Carnt N, et al. Complications associated with care product use during silicone daily wear of hydrogel contact lens. Eye Contact Lens 2007;33(6): 392-3; discussion 399-400.
Amos C. A clinical comparison of two soft lens care systems used with silicone hydrogel contact lenses. Optician 2004;227(5933): 16-20.
Peterson RC, Fonn D, et al. Impact of a rub and rinse on solution-induced corneal staining. Optom Vis Sci 2010; 87(12): 1030-6.